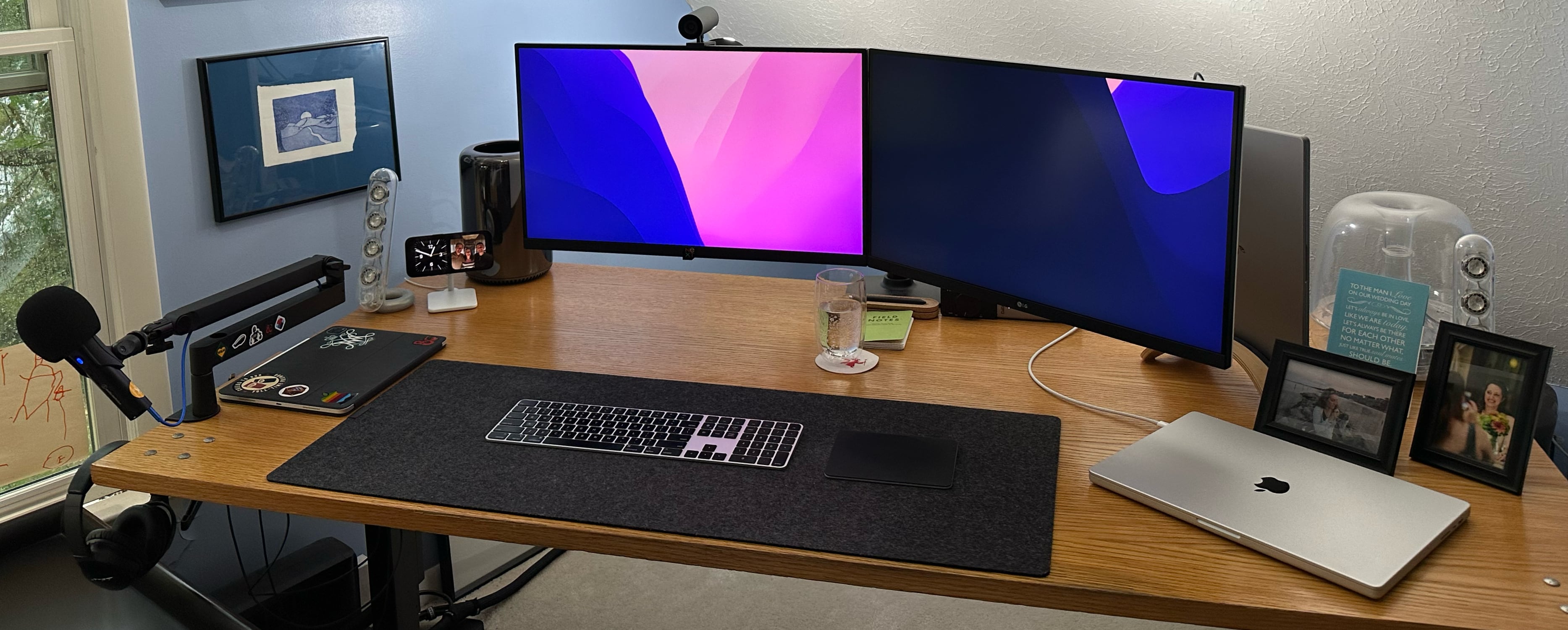 I always enjoy seeing how others have set up their work environments but I realized that I have never shared my own. I'll do my best to give a list of all the items in the picture as well as what I have tried to achieve.
Philosophically I want a very clean workspace. I find that if my surroundings are neat and clean that I am able to focus more on whatever I am doing whether work or play. This applies particularly to what is in my eyeline as I am at my desk. The rest of the room is generally neat, but if I can't see it directly, I worry less about it. More specifically this means not having clutter on my desk especially when it comes to wires. My goal is to have as close to zero wires visible from where I sit. I am happy that I have achieved that as much as I think possible at this point.
The Desk
The desktop itself is part of an old desk that was given to me by a dear friend when I got my first apartment over 20 years ago. It is oak veneer over particleboard, I think, but it is very solid and very heavy. I converted it years ago to have metal legs which is why you can see the intentionally exposed ends of carriage bolts at the corners. Those are no longer used but I still like the look. About a year ago, I replaced the legs with adjustable legs from Uplift. They are not the cheapest but the quality is excellent and the support from Uplift is great. I had one leg that started making an odd noise and they sent me a replacement no questions asked.
Yes, there are many computing devices on my desk. Here is the rundown.
Computers
Computer Accessories
2 LG 4K Monitors (27UK850). They are fine, nothing special about them.
Amazon Basics dual VESA mount arm. Nothing special here either, it works. I don't move the monitors around any, so it does an acceptable job holding them in place.
Caldigit TS4 - This is the center of my system. It is a single Thunderbolt cable to my work MBP and all accessories are plugged into it. Not cheap, but rock solid and solves for my "no visible cables" policy. It connects to both monitors, all the USB accessories, and wired GbE to my home network.
Caldigit TS3+ - I had this before upgrading to the TS4. I still use it to attach my personal MBP to things.
Apple Magic Keyboard with Touch ID and Numeric Keypad - I like the dark look and the Touch ID is great for authenticating especially for 1Password.
Apple Magic Trackpad - I have been known to switch back and forth from a trackpad to a mouse, but I am in trackpad land now.
Dell Webcam WB7022 - I got this for free at some point and I mostly love it because it reminds me of the old Apple iSight camera.
Harmon/Kardon Soundsticks - These are the OG version of these from around 2000 that I got with an old G4 Powermac. They still sounds great.
audio-technica [ATR2100x-USB] microphone - Got this on the recommendation of the fine folks at Six Colors.
Elgato low profile Wave Mic Arm - I had a boom arm before but I hated having it in front of me. This does a great job of keeping the mic low and out of camera when I am using it.
Bose QC35 II noise cancelling headphones - I don't use them at home all that often but they are amazing for travel
FiiO A1 Digital Amplifier - This is attached to the TS4 audio output and I use it to play music to a pair of Polk bookshelf speakers out of frame.
Cables - I generally go for either Anker or Monoprice cables where I do need them. I like the various braided cables they offer.
Desk Accessories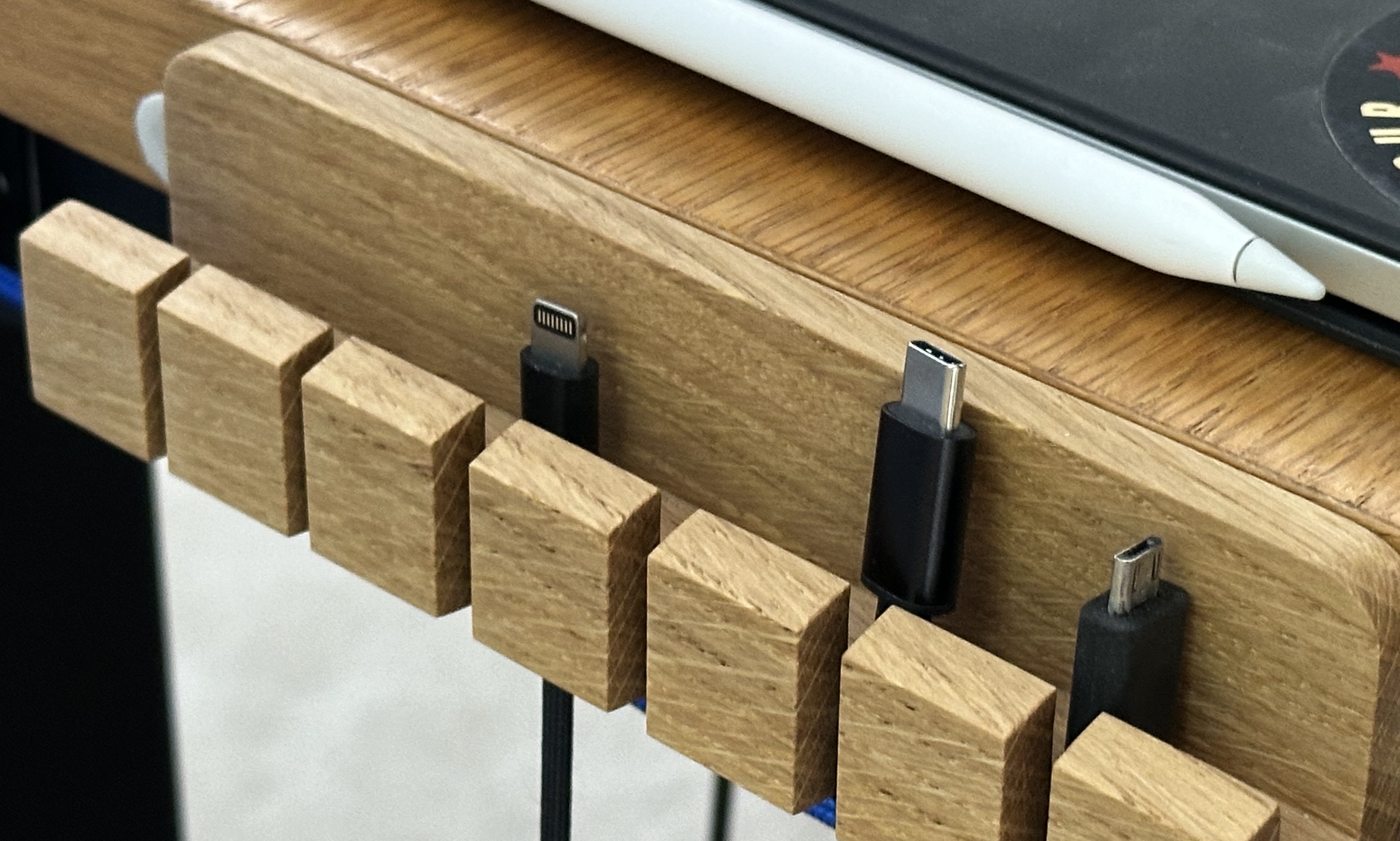 Lighting
2 Nanoleaf Smart Bulbs - These are mounted behind my monitors facing the angled wall to provide indirect light
Underneath

I am actually pretty proud of the contained chaos that is under the desk. It is kept in place enough that I don't hit cables with my legs which is more than I can say for many of my desks in the past.